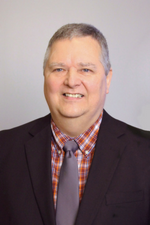 (Jonesboro, Arkansas) www.hytrol.com October 25, 2017—Hytrol is pleased to announce that Lennis McClure has accepted the position of systems engineering facilitator, effective immediately. In this role, McClure will apply his extensive Hytrol knowledge and serve as a mentor to the systems engineering and applications team.
Celebrating his 45th year at Hytrol in May, McClure has been involved in various systems engineering positions throughout his career. His accomplishments include being instrumental in choosing the first CAD system for Hytrol as well as being involved with developing Hytrol's first conveyor system drawing programs, both with HP ME10 and AutoCAD.
His education includes a bachelor's degree in business from Arkansas State University. During his Hytrol career, he has also completed several training courses involving advanced project management and warehouse distribution.
Mitch Smith, Hytrol's vice president of engineering, said McClure was the most qualified for this position, as his experience has earned the trust of his co-workers, the Hytrol management team members and integration partners.
"After 45 years with Hytrol, Lennis has made many lasting impressions in the success of the company and its integration partners," he said. "As he looks toward retirement in the next few years, his focus will be on mentoring and training systems engineers to carry on the remarkable legacy of Hytrol."
McClure said he hopes to share his experiences and advice to Hytrol's systems design and project engineers so they can work more effectively as individuals and as a team. "I look forward to helping them become more productive and making their jobs easier with additional training and guidance opportunities," he said.
—
About Hytrol:
Hytrol (www.hytrol.com) designs and manufactures advanced conveyor systems, controls and solutions for customers with processing, manufacturing, warehousing and distribution needs. Established in 1947, Hytrol has demonstrated an unwavering dedication to understanding the unique material handling needs of businesses. From traditional roller and gravity conveyors to the most advanced conveying system technologies such as 24-volt conveying solutions and logic-driven zero-pressure accumulation, we seek to create the most value possible for our customers. We believe that these solutions are only as good as the people behind them. Hytrol works with a network of integration partners to implement solutions for customers across the globe. Our emphasis on the "Hytrol Family" mindset continues to make Hytrol a great place to work as well as a mainstay of the company's respected position within the material handling industry. With 2017 marking the company's 70th year in business, we look forward to accomplishing many more milestones in this monumental year of our company's history. Hytrol is a proud member of MHI, CEMA (Conveyor Equipment Manufacturers Association), RILA (Retail Industry Leaders Association) and IABSC (International Association of Baggage System). Follow Hytrol on Twitter @Hytrol.