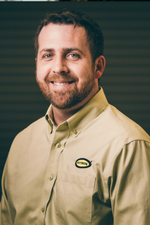 Jonesboro, Arkansas www.hytrol.com August 9, 2017—Hytrol is pleased to announce that Curtis Norris has been promoted to customer training specialist, effective immediately.
In this role, Norris will manage the external training program for Hytrol, creating and coordinating learning opportunities for integration partners and customers.
Norris has served as customer training coordinator at Hytrol since February of this year. A native of Trumann, Ark., he brings over 13 years of experience in supply chain and logistics management to the position. He holds a Bachelor of Science degree in supply chain and logistics management from Bellevue University and multiple instructor certifications from the Department of Defense.
Norris said he wants to utilize his experience in his previous roles to create a more efficient and educational seminar program for Hytrol's network of IPs and end users.
Bob West, Hytrol's vice president of corporate development, said Norris was chosen for the position based on his experience and his fast additions to the training program. "Curtis came on with Hytrol and immediately worked to improve training for our integration partners and end users. We believe he'll be a great fit for this role, and look forward to seeing our training become even more beneficial to our network," said West.
About Hytrol:
Hytrol (www.hytrol.com) designs and manufactures advanced conveyor systems, controls and solutions for customers with processing, manufacturing, warehousing and distribution needs. Established in 1947, Hytrol has demonstrated an unwavering dedication to understanding the unique material handling needs of businesses. From traditional roller and gravity conveyors to the most advanced conveying system technologies such as 24-volt conveying solutions and logic-driven zero-pressure accumulation, we seek to create the most value possible for our customers. We believe that these solutions are only as good as the people behind them. Hytrol works with a network of integration partners to implement solutions for customers across the globe. Our emphasis on the "Hytrol Family" mindset continues to make Hytrol a great place to work as well as a mainstay of the company's respected position within the material handling industry. With 2017 marking the company's 70th year in business, we look forward to accomplishing many more milestones in this monumental year of our company's history. Hytrol is a proud member of MHI, CEMA (Conveyor Equipment Manufacturers Association), RILA (Retail Industry Leaders Association) and IABSC (International Association of Baggage System). Follow Hytrol on Twitter @Hytrol.