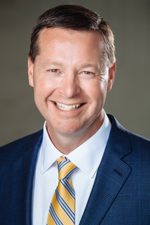 August 7, 2017—Hytrol is pleased to announce that Mitch Smith has been promoted to vice president of engineering, effective August 1. In his new role, Smith will leverage his experience within the industry to provide Hytrol's technical groups the attention required for the company's tremendous growth. He will work directly with Hytrol's research and development team, as well as product and project managers, to support the company's innovative engineering efforts.
Smith joined Hytrol as the director of product management in June 2016. He has a wealth of experience and a long list of achievements, including serving 23 years at Bastian Solutions, where he was the vice president of several operating eastern U.S. business units. He was also a managing partner and a member of the Halo Executive Board of Directors.
Hytrol President David Peacock said Smith's role on the leadership team will help ensure Hytrol's long-term competitive position in the material handling industry. "Between the ongoing disruptions in our industry and the rapid advancement of technology across the economic spectrum, Mitch's expertise and real-world experience position him to be an invaluable leader to our technical talent here at Hytrol. As we continue to grow, his longstanding relationships with our integration partners and end users enhance the clarity necessary for Hytrol's continued success," Peacock said.
—
About Hytrol:
Hytrol designs and manufactures advanced conveyor systems, controls, and solutions for customers with processing, manufacturing, warehousing, and distribution needs. For almost 70 years, Hytrol has demonstrated an unwavering dedication to understanding the unique material handling needs of businesses. Hytrol is focused on creating innovative, customized conveyor solutions that help companies achieve their goals. Follow Hytrol on Twitter @hytrol.
MEDIA CONTACT:
Rachel Simpson
Marketing Specialist
rasimpson@hytrol.com
870.935.3700